Kibuyu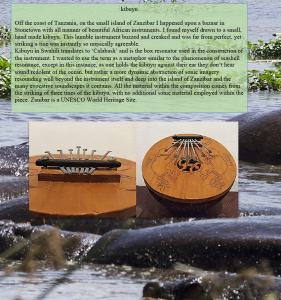 Description
Off the coast of Tanzania, on the small island of Zanzibar I happened upon a bazaar in
Stonetown with all manner of beautiful African instruments. I found myself drawn to a small,
hand made kibuyu. This humble instrument buzzed and creaked and was far from perfect, yet
striking a tine was instantly so musically agreeable.
Kibuyu in Swahili translates to 'Calabash' and is the box resonator used in the construction of
the instrument. I wanted to use the term as a metaphor similar to the phenomenon of seashell
resonance, except in this instance, as one holds the kibuyu against their ear they don't hear
sound redolent of the ocean, but rather a more dynamic abstraction of sonic imagery
resounding well beyond the instrument itself and deep into the island of Zanzibar and the
many evocative soundscapes it contains. All the material within the composition comes from
the striking of three tines of the kibuyu, with no additional sonic material employed within the
piece. Zanibar is a UNESCO World Heritage Site.
Vote for the project
Vote is not activated