Narayana yoga studio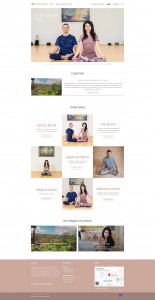 Description
IN THE LAND OF LOVE TEMPLE OF DEVOTION GROWS IN TO THE SKY OF SURRENDER.
Нараяна йога се намира на втория етаж от напълно реновирана сграда, намираща се на мястото на стара фабрика на ул. Странджа 52. Построена преди над 100г., тя е включена в архитектурното наследство на България.
Сайтът на Нараяна Йога е изграден на CMS WordPress електронен магазин с опростен и стилен дизайн, лесен за навигация, с три версии (десктопна, мобилна и таблетна).С удобни бутони за обаждания, Live чат и акаунт за live stream практики. Онлайн магазин с предлагани от студиото продукти. Улеснена и удобна поръчка. График за практиките в студиото, ценоразпис, информация за практииките и страници чрез който потребителите могат да се запознаят с преподавателите преди са се срещнат. Интеграция с социални мрежи (магазин и новинарски ефир).
Vote for the project
Vote is not activated