Tyxit wireless audio technologies website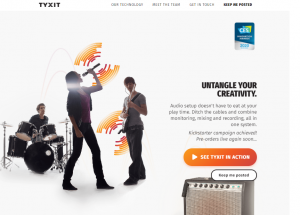 | | |
| --- | --- |
| Project name | Tyxit wireless audio technologies website |
| Category | Web design: Technology and Market |
| Registration date | 20 September 2020 |
| Author | Alexander Petrov |
| Status | Approved |
Description
TYXIT is a swiss based company for wireless audio technologies, offering and innovative system for audio broadcasting, aimed at live performing musicians. Since the technology they are offering has no alternative on the market, the goal for the website was to follow the principle of "Show, don't tell". To be visual and interactive enough, to create a strong first impression, and inform the potential audience of the product, which is yet to be released on the market.
Design / Illustration / Development: Alexander Petrov, http://embrand.me
Website Copywriting: Atanas Dzhingarov
3D Animation: Andrey Andronov
Tools used: Webflow, Blender 3D, Adobe CC
————
TYXIT e швейцарска компания за безжични аудио технологии, предлагаща иновативна система за разпръсване на аудио сигнал, насочена към музиканти на живо. Тъй като технологията няма аналог, това изискваше сайта да е достатъчно визуален интерактивен, за да създаде ясно впечатление и да информира потенциалната публика за продукта, който все още не беше пуснат на пазара публично.
Дизайн / Илюстрация / Разработка: Александър Петров, http://embrand.me
Уебсайт Копирайтинг: Atanas Dzhingarov
3D Анимация: Andrey Andronov
Използвани инструменти: Webflow, Blender 3D, Adobe CC
Vote for the project
Vote is not activated